On Corporations & Alien Invasions
Topic: Commentary
This is just a quick post on a few interesting topics that have popped up. I haven't been posting lately because I'm focusing on finishing my article on American capitalism.
The first thing I want to comment on is
Mitt Romney's recent remark on corporations
. Not that I care about Mitt Romney, but the remark is an instructive one.
Mitt Romney recently said, "Corporations are people," and, "Everything corporations earn ultimately goes to people. Where do you think it goes?"
Romney's second remark is true, everything corporations earn does ultimately go to people, at issue, however, is the manner in which it goes to people and to which people it goes.
Here is the thing about corporations, they are legal entities whose function and design is literally to shield owners and operators from responsibility and to redistribute value. That is their precise legal function, that is why they exist.
Corporate entities take on liability such that the liability isn't held by the owners and operators of the corporation, thus it removes responsibility from people. And while it is true that everything corporations earn ultimately goes to people, it can take a long time for that value to get any person (right now American corporations are sitting on over $2 trillion in liquid assets) and the people that the value goes to are the not the same people who create it.
Corporations are collectively held legal entities, with owners holding shares of the corporation. The value goes from the workers to the share holders. That is the whole point of the corporation. The whole point of the corporation is to redistribute value from workers to owners, if it weren't then there would be no point in being an owner.The entire incentive for being a share holder is to get value from the corporation without having to do the work yourself. The claim is that the share holders take on the risk in exchange for a cut of the value created by the workers, but even this is largely bogus since we go right back to point #1 which is that corporations are legal entities designed to shield owners from risk! Do share holders take on some risk? Yes they do, but it is extremely limited.
To further illustrate just how absurd Mitt's statement about corproations is, all we have to do is substitute the word governmet for corproations thusly, "Governments are people," and, "Everything governments collect in taxes ultimately goes to people. Where do you think it goes?"
This statement is equally as true as Mitt's statement about corporations, yet Mitt had just finished denouncing "big government" prior to his statement on corporations. This isn't a defense of government, it is meant to point out the fact that just because everything "goes to people" has nothing to do with how it goes to people, and to whom it goes, which is the central complaint that conservatives have with "big government", which is really the exact same problem with "big corporations". Indeed it is in fact much worse, as can be demonstrated with the following chart:
This is from 2000 (I haven't been able to find a newer version of this), but it's relatively the same today as it was back them. What we see here is that income from capital is over 3 times larger than income from government transfers (Welfare & social Security), which by the way Social Security isn't really even redistributive. Most of the income from capital is realized through corporations. Both the transfer income and the capital income are redistributions of value that was originally created by labor. Clearly far more income is being redistributed through capital than through government transfers. And let's see how this income is redistributed.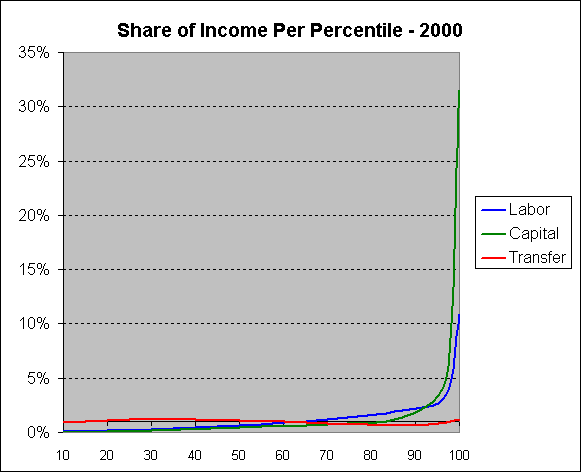 Government transfers, including Social Security, are actually relatively evenly distributed across the income spectrum, while capital income goes overwhelmingly disproportionately to the richest part of the population. And redistribution through corporations is only partly achieved through capital income, lots of redistribution takes place within corporations through wages, salaries and benefits. Hence the redistribution that takes place through corporations is exponentially higher than the redistribution that takes place through government.
So yes Mitt, what you say is true, everything corporations earn ultimately goes to people, the issue is that it goes to the wrong people. It goes from workers and consumers to corporate cannibalizing free loaders like yourself. The primary problem with our economy is that corporations have become massive instruments of redistribution of value, so much so that they are in the process of destroying the middle-class and the entire economy due to the severity of redistribution that is now taking place.

And now on to Paul Krugman's remark about the economic stimulus of an alien invasion, which has gotten a few people talking. I really don't see what the big deal is, it's a pretty basic remark, but unfortunately the sound bites allocated to commentary didn't give Pr of. Krugman time to explain himself, not that he always explains himself that well anyway, but.

The central fact is this, that what Keynesian economics says, and what World War II proves (to a degree, and a lesser degree than Krugman usually grants), is that short term government funded jobs programs, funded through increased taxes and deficit spending, in the face of lagging economic demand, can be stimulative to the economy, break an economy out of a depression/recession and lead to long-term economic growth when the cause of the depression/recession is lack of aggregate demand.

Arguably that's the situation we find ourselves in now and that's why Krugman recommends a massive stimulus program, and claims that even if we paid people to dig holes it would still be better than doing nothing.

All of this is true, but the interesting thing is what didn't get said, and what Krugman often implies but doesn't quite get around to saying (typically because he doesn't have time in a 30 second sound bite), is that while it is true that tax increases, borrowing, and massive government spending can stimulate the economy, it's very difficult to get people to agree to do it. (This is also why Keynes famous said that his general theory was better suited to command economies). But the problem isn't with the policy, its with the people. The policy will work, the problem is that people typically don't want to do it, kind of like a surgery that will fix an injury but someone not wanting to go through with it because they are scared of surgery or don't trust the doctor, etc.

Not only that, but the policy will work even better if, instead of digging holes in the ground, we actually build something useful. But here is the problem, convincing people to build something useful is often even more difficult than convincing them to dig holes in the ground! The reason for this is that building something useful invariably results in "redistribution".

So this is where wars and alien invasions come in. People will agree to Keynesian type activity in the face of eminent threats, like a war or an alien invasion, and they will agree to have their taxes raised and for the government to borrow tons of money if they think that they will die if they don't do it, even though the spending in such cases actually largely produces "nothing useful" (this is where Krugman overstates the case for WWII though, since a lot of long-term useful stuff was actually produced).

However, if the proposal was to simply raise taxes and engage in a massive jobs program to do something like build free housing for the poor, install solar panels on everyone's house, and build lots of new state-of-the-art schools, then most people would balk at it and it wouldn't be possible to get the political will to engage in such a plan, even though doing so would be far more beneficial to the economy than preparing for war or an alien invasion.

Clearly, from a purely economic perspective, the best thing to do would be to engage in a massive jobs program, on the scale of World War II, but directed toward producing things of domestic value instead of weapons, most of which ended up getting shipped to Europe and destroyed (effectively digging holes in the ground from an economic perspective). The problem is that, even though that is the best thing to do, it is the politically least likely to happen. Hence, Krugman's alien invasion statement, saying that if the threat of an alien invasion could just generate the political will to act, the government has the ability to end the "recession" and high unemployment tomorrow. We have high unemployment by choice. There is a known surgery that can fix it, we've just decided that we don't want to undergo the surgery.

We have massive untapped potential for economic growth and it remains untapped purely due to political will, not due to any technical reason or lack of ability.

Having said that, I'm not in favor of such a scheme anyway because the reality is that Keynesianism is a means of temporarily propping up an inevitably collapsing system. What Krugman proposes is a crutch, which has to be applied in capitalist economies every time economic inequality inevitably gets out of control. It's like driving a car that pulls to the right and then jerking it back onto the road every so often as it veers too far off the shoulder of the road. Yeah, if you are gonna drive with a car that is out of alignment then it is good to jerk it back onto the road instead of letting it go off into the ditch (as we continue to do now), but the solution is to get the car aligned to it doesn't keep pulling to the side to begin with.