Waiting for economic equality, not Superman
You may have been able to guess that the pop-documentary "Waiting For Superman" was largely corporate propaganda by the fact that the film got so much praise and coverage in the mainstream media. While I have not seen the full film I did watch coverage of it on MSNBC and the Today show, and have been reading up on it.

It appears that this film puts the "blame" for a supposed decline in American public school education squarely on teachers and traditional public schools. I'll leave a detailed analysis of the film and argument against its thesis to the excellent article The Myth of Charter Schools, but I want to focus in on one issue.

As stated in The Myth of Charter Schools, only roughly 20% of student achievement is a product of teacher influence, and roughly 60% is a product of factors outside the school. This should be pretty easy to understand. If you take a child that is performing well at one school, and you move them to a different school, that child will typically perform well at that school too. Likewise, children that do poor in any given school typically do poor in any other school as well.

The whole point of many of these charter schools, however, at least in initial concept, is precisely to provide environments where traditionally poor performing students can do better. Certainly schools have some impact, and teaching styles, school facilities, the curriculum and the overall learning environment can be designed in ways that improve the participation and performance of students.

But the real questions are: #1 is American primary education performance getting worse or getting better, #2 are traditional American public schools under-performing charter schools and private schools, #3 if they are then why are they, #4 how does American primary school education rank relative to other countries?

First, is American primary education performance getting worse or getting better? Actually it's still getting better. The reality is that while American education has been improving all along, it's just not improving as quickly as some other foreign countries. More Americans graduate from high school today than at any time in America's past, so we are doing a better job at keeping more students in school longer and seeing that they complete primary school education.

Now, the fact that more people stay in school means that by 12th grade, there are more people still in school today who would previously have dropped in years past, and they are still taking standardized tests. Whereas in 1950 less than 50% of the population had a high school education, and most of the people who didn't have one were less intelligent and poorer performers, today almost 90% of the population has a high school education. This means that more poor performers are staying in longer. The inevitable result of this is that there is a larger and larger drag on "average performance". The more people you keep in school, generally the lower you can expect average test scores to be, all else being equal.

Secondly, are traditional American public schools under-performing charter schools and private schools? Yes and no. Certainly there are individual traditional schools that under-perform individual private and charter schools, but the reverse is also true. Taken in aggregate and, importantly, adjusted for economic background, there are no significant differences between traditional public school performance and private and charter school performance.

And here is the key, which gets to question number 3. If traditional public schools do under-perform then why?

The initial concept of charter schools was that charter schools would be set-up to specialize in meeting the needs of special needs children and poor performers in traditional public schools in order to allow traditional public schools to focus on meeting the needs of the majority of students. The view was that something like 80% of the student population could be well served by traditional schooling, while some 20% of the population would benefit from more a specialized environment. Under this scenario, one would expect charter schools to under-perform traditional schools, because the whole point was for them to deal with the poorer performing students.

But then something happened. Then the federal government began allowing private for-profit corporations to take over and manage "charter schools". The goal of these corporations, obviously, is to make a profit, and you increase profits by expanding your market and you expand your market by demonstrating that you "increase performance".

Now obviously you aren't going to have much appeal by being the school for the 20% of the "dumb kids"; in order to expand your market-share you need to go after that 80% of the mainstream student population. So that's what happened, charter schools began "competing against" the traditional schools, instead of being a means of augmenting and assisting traditional schools.

Now in order to really expand you need to show that your system "out performs" the traditional schools, and even better you need legislation that will force traditional schools to be shut down and have the teachers fired in order to acquire those new "customers".

Well, you start by first rigging the game. The first thing you do is you are more selective in your student population, because after all average test scores are largely a product of who you are testing, not how you are teaching. So the charter schools now, instead of taking on the most problematic students, seek to take on the best students and leave the more problematic ones in the traditional schools. And this is all what is happening now with the help of Bush's "No Child Left Behind" and Barack Obama's doubling down on the same program, with Obama's added enforcement measures and program of shutting down of schools that don't show continuous improvement.

Overall, however, what the data shows is that comparable charter schools aren't out performing traditional public schools,

And when we look at the charter schools that do perform well they typically spend many more dollars per student than comparable traditional schools are allotted, and they are more selective either in who they enroll or in who they retain.

The truth is that America's falling position in international academic performance is a symptom of the same root causes that are at the core of nearly every aspect of American decline, growing economic inequality. Studies show that one of the strongest predictors of academic performance is family income, and that things like unemployment of parents, even among students of traditionally high family incomes, can significantly impact performance. When we look at performance on international standardized tests what we find is a direct correlation between income inequality and student performance.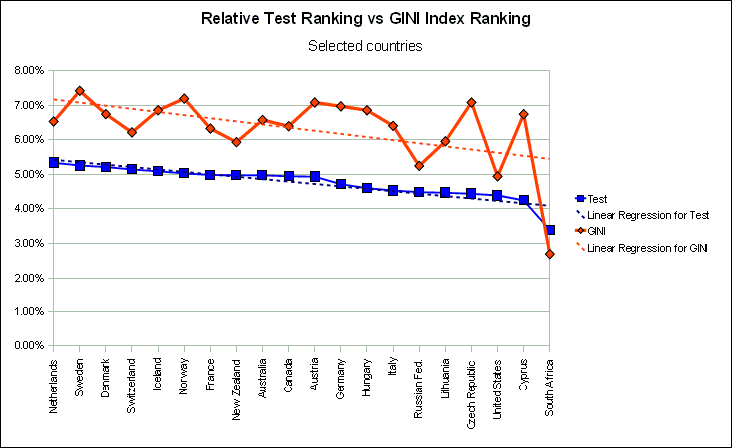 The graph above is based on select test scores. I was having a problem finding data, so I just grabbed the best set I could find. This is then compared to an inverse relativity of the GINI index for those same countries. The test scores go from highest to lowest and GINI index goes from lowest to highest, which is why I had to use an inverse (in the graph a lower GINI value means higher inequality). Relativities were used to make the values comparable.
Certainly we can all agree that improving public education is an important goal, and we should look at things like merit pay as components of doing that, but the reality is that problems in the American public school system are largely symptoms of the dissolution of the American middle class, and of growing economic inequality in America. We can't fix public education in America without addressing the root causes of the problems. The root causes of the problems aren't found within the schools, the root causes of the problems are external to the schools. There are many valid criticisms of American public education, but charter schools do little to address them.
The solution offered by "Waiting for Superman" is essentially turning the American public school system over to publicly funded private for-profit corporations, who in reality have shown no better performance than traditional public schools. The only result of the "charter school" movement will be to further fragment the curriculum, with different schools teaching different views of the world, to allow further infringement of religion into "public" education, and to enrich a minority of people on the public dime. The movement toward charter schools is once again a nexus of the interests of corporate profits and conservatives who see it as a way of introducing their view of the world into the curriculum, allowing a more conservative view of history and science to be taught.

To be sure there are some good charter schools. The whole point of charter schools is that they can all be very different. There are some that are more science based and do have better curricula than traditional public schools, and not all are run by for-profits, but its a mix and that fragmentation is exactly what is used to appeal to different groups to gain initial support.

Like virtually every problem in the American economy and society today, the problems with public education really all come down to growing economic inequality in America, and nothing is going to significantly improve the system until that root cause is addressed and economic inequality is reduced.