How to deal with the mortgage crisis
Topic: Commentary
After the stock market collapse of 2000 numerous "investment" firms and brokerages, such as Morgan Stanley and Merrill Lynch, were criminally prosecuted on various grounds for investor fraud. The fines in these cases went into the hundreds of millions of dollars, and a portion of those fines were used to pay restitution to defrauded victims.

I would argue that lenders who provided sub-prime loans were effectively engaging in a form of market manipulation, which, if it had been in relation to securities that are traditionally regulated by the Securities and Exchange Act, would be deemed illegal.

It's very clear that the prices of homes were being driven by credit, i.e. the over expansion of credit led to rapid price inflation, and the issuers of the credit knew this. The credit issuers were involved in manipulating the housing market to their own short-term gain, which again, would be illegal if houses were stock or bonds.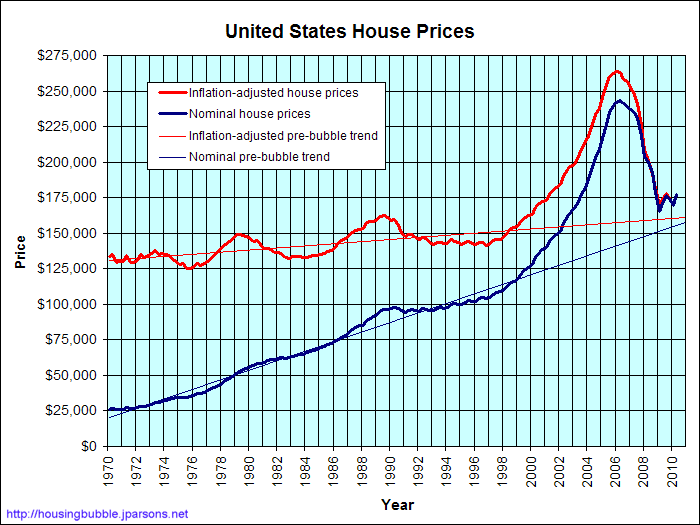 What needs to be done is there needs to be some way to prosecute these lenders for market manipulation, and either via fines or class action lawsuits or something, these lenders need to be forced to pay back billions of dollars to people who purchased homes between 2003 and 2007. I'm not exactly sure how the payments would be worked out, either there could be a flat percentage based on the state and year the home was purchased in, or something of that nature. Generally in large settlements things aren't too precise, everyone in the class action suit gets a set amount or something of that nature. Some criteria for eligibility would have to be established as well, something like only people who purchased home and either sold it for a loss or still own it, or had to foreclose after having made X amount of payments, etc. would be eligible.

Here are the facts: Lenders caused the housing crisis. They absolutely did, because without their expansive and clearly fraudulent leading practices prices could not have gone up the way that they did. They caused it, and then they got bailed out, while home buyers largely have not gotten any relief. Now that the banks have been caught fraudulently going through the foreclosure process, while paying out record bonuses and pay raises, the time has come to take serious action.

Many people have been hurt by this and face long-term economic ruin due to this crisis, and even those that don't face ruin, still face less than desirable impacts. What paying out damages to home buyers would do is it would soften the impact of the housing collapse and it would facilitate the return of housing prices to normal levels (they actually still haven't fallen far enough yet). It would let people pay down their homes to get out from being under water and it would allow people to refinance.

This is what's needed to get the housing market, and thus the overall economy, at least marginally back on track. These lenders caused the problem, and yet they still have not been made to pay, in fact quite the opposite, they have been bailed out and propped up and they are going on with business as usual, clearly not having learned their lesson.

The oil company BP ended up putting up $20 billion (actually they have not yet fulfilled that pledge) for restitution for people affected by the Gulf oil spill, and BP is just one company and has fewer assets than the big banks do. It's quite easy to argue that the economic damage caused by BP's Gulf oil spill is far less than the economic damage caused by the housing bubble and the on-going mortgage crisis, and yet the lenders responsible for this catastrophe have not yet been held accountable.