Evolution, Education and the Inquisition
Topic: Commentary
The "Intelligent Design" case currently being tried in Pennsylvania courts is being billed as Scopes II, but in reality it's more like the Inquisition because the trial isn't about the facts, it's about protecting certian beliefs. Just like during the Inquisition, even the defenders of evolution are trying to protect themselves by claiming that the teaching doesn't contradict "the faith".
Interestingly, the promoters of "Intelligent Design" claim that ID is not a religiously based view, and that it is a scientific "theory". In reality it could only be considered a scientific hypothesis at best, but nevertheless the questions and comments in the trial keep going back to religion anyway.
The climate is so religiously hostile, in fact, that the supporters of evolution are bending over backwards to present evolution as compatible with Christianity.
The Miami Herald reported:
Faith and reason called compatible
"An expert witness who has sharply criticized the teaching of the 'intelligent design' theory of life's origins testified Tuesday that faith and reason are compatible."

"'I believe not only that they are compatible but that they are complementary,' said Miller, who earlier told the court he was a practicing Roman Catholic.

Miller also backed off a statement in a 1995 biology textbook he co-wrote that said evolution was 'random and undirected.' Miller said he missed that reference by a co-author and that he did not believe evolution was random and undirected."
The Philadelphia Inquirer reports:
Court test is near for 'intelligent design'
"But Americans in general, and conservative Christians in particular, are much less convinced.

In a recent survey,... 64 percent - supported the teaching of creationism along with evolution."

"[Barry Lynn, of Americans United for Separation of Church and State] said that for students to be told that 'evolution is true and your silly Bible stories are false would also be unconstitutional.' Religion, in either a positive or negative manner, has no place in a science classroom, he said."

"The American Scientific Affiliation, an organization of scientists who are Christians, does not support or oppose intelligent design, said executive director Randall Isaac. He said a false choice had been created in the debate over evolution, making it seem that one cannot believe both in evolution and in God.

'You don't have to pick between one or the other,' Isaac said. 'Evolution is very important to be taught in the schools. But we really need to ensure that a public school doesn't denigrate anyone's religion.'"
Actually, this
is
the problem with the American education system. The problem with American education is that we have taken the position that we can only teach in a way that does not contradict anyone's religious beliefs, yet the history of progress is the history of knowledge
over
religious belief.
America is now the most religiously diverse country in the world. People here hold all number of different, and often absurd, religious beliefs. To claim that our education system shouldn't "denigrate anyone's religion" is to completely give up on the purpose of education.
The purpose of education is to teach people what is true and help them understand the real world. If someone's religious beliefs contradict what we know about the real world (as virtually all religious beliefs in the history of mankind have done) then we have to be able to teach them, and be able to
prove to them
, how and why their beliefs are wrong. If we fail to do this then we fail to educate.
Indeed we have failed to do this in America, and this is the primary root cause of the demise of the education system in America.
After World War II the United States was able to become the world leader in education because of our vast resources and the fact that every other major country in the world was in turmoil. What we never did in this country, however, was provide our children with a consistent worldview. In America we teach our children a disconnected collection of facts, and we do it in a way that no real conclusions about life can be drawn from the facts. We actually go out of our way
not
to provide our children with a worldview out of "respect" for everyone's different and independent worldviews.
The result is that Americans are growing increasingly disconnected and feeling increasingly lost. Americans try to wield secular knowledge within a religious framework, and ultimately this results in not making sense of either the religious world or the real world.
Looking at the other countries of the world, however, we see a consistent pattern. All of the most well educated countries in the world are also the least religious.
A study released on September 27th showed that the United States of America is continuing to fall behind other countries of the world in education. CNN reported that top performers in education include Finland, South Korea, the Netherlands, Japan, Canada and Belgium.
U.S. world position in education slipping
Below is a graph of the most atheistic countries in the world. As you can see, Finland, South Korea, the Netherlands, Japan, Canada and Belgium are also among the most atheistic countries in the world and America has the least atheists out of the top 50.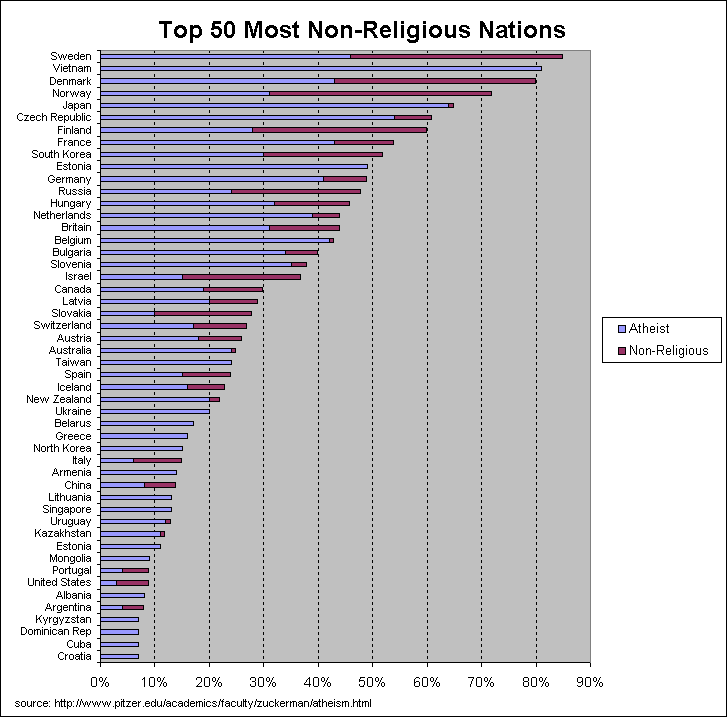 This isn't a coincidence. As science and human knowledge continue to progress the United States is going to continue to fall farther and farther behind in education unless Americans are able to embrace non-religious worldviews that correspond to the facts and reality of the world around us.
Furthermore, research has shown that the countries in which evolution is most widely accepted are also the countries with the lowest rates of social dysfunction. Crime, abortion, murder, poverty and teen pregnancy are all lowest in the most atheistic countries where evolution is fully accepted and people have atheistic worldviews. Not only do these countries have better functioning societies, but they are also advancing in education, technology, and understanding at rates that are leaving America farther and farther behind.
Societies worse off 'when they have God on their side'
To contradict this fact many people will claim that America still has the most advanced research institutes and universities, however the fact here is that the majority of scientists in America are atheistic and the majority of grad students in the fields of science and engineering come from Europe and Asia.
Right now over half of the grad students in engineering in America are here on visas from a foreign country. America cannot produce its own scientists and engineers because we don't provide our children with either a school system or a culture that is capable of actually giving them the knowledge
and understanding
needed to excel in the sciences.
Posted by rationalrevolution.net at 2:51 PM EDT |
Post Comment
|
Permalink
Updated: Sunday, October 2, 2005 8:21 AM EDT